Ramona's 4th of July celebration begins Monday morning at 8 am when the 10th annual 2-mile Redneck Fun Run/Walk begins in downtown Ramona. Fees: $12 adults, $7 kids 12 and under (includes t-shirt). Registration by June 27 to have your shirt on the July 4th. meet at the corner of 4th and D on the day of the race.
Download a registration form here and mail to the sponsors/coordinators: Byron & Julie Noeth, 406 E. First, Ramona, KS 67475. 785-258-4086. Registration deadline: June 27. (Registering on the day or the event increases the price to $15 and $10, and the shirt is mailed to you within 10 days.)
Lawn Art Contest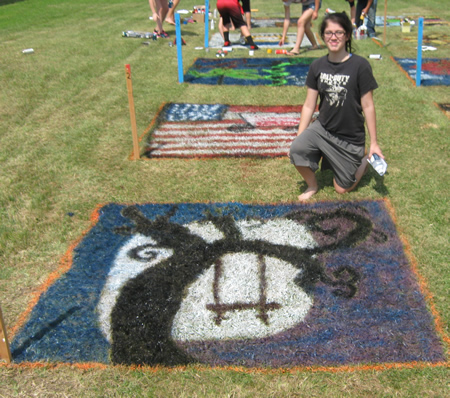 The 3rd Annual Ramona Youth Council Lawn Art Contest begins at 10:00am, downtown Ramona.
The contest is open to kids 8-16. The art is judged in two age categories: 8-11 and 12-15, and will be judged by professional artists. Kids compete in teams (which can be one person or up to four) to paint a 6'6' work of art that painted with spray paint, using grass as a "canvas."
TCT is sponsoring the prizes which range from $100 to $30. Additional prize money provided by the Throttle Jockey Club of Herrington.
There will be 20 "grass canvases" available, assigned on a first-come, first-served basis. Competitors must register by June 27 to be guaranteed a spot and have their spray paint waiting for them. Registration is FREE and spray paint provided. Each team is given five cans of spray paint (colors specified on the registration form). Teams can also bring their own paint. Questions? Call Jessica Gilbert at 785-965-7110.
Download registration form and contest rules here.
Country Breakfast

A country breakfast, featuring biscuits and gravy and other "fixins" will be held at Ramona City Hall (302 D St.) from 8-10am; donations go to the 4th of July Fireworks Fund. 
Concession
The Flame Chasers BBQ opens at noon with hot dogs, hamburgers and other grilled items, along with chips and drinks. Located at the Fire House on D Street. Sponsored by the Ramona Fire Department, Ben Calvert, coordinator.
The Snow Barn will keep you cool with shaved ice and drinks. The concession opens at noon at the City Park and then moves downtown around 5 pm for the evenings festivities. 
The Pulled-Pork dinner will be available beginning at 4pm inside City Hall (302 D) and serving pulled pork sandwiches, chips, beans and drink. Sponsored by the Herrington Municipal Hospital.
Basketball
At noon, registration opens for the popular James Weber Memorial Basketball Competition at the City Park. The 3-on-3 competition begins at 1pm. Entry fee is $15 for three players; 50% of the funds are paid in prizes and 50% benefits the James Weber Memorial Scholarship Fund. Competition levels: 1-6th grade, 7-9th, high school, and adults. Girls' teams encouraged. This competition is coordinated by James's mother, Lisa Hanschu.

Lawnmower Racing
At 5pm , the popular Lawnmower Obstacle Course races commence, with cash prizes sponsored by Mike's Mower Service of Hope and coordinated by Art Stroda and Brian Haden.
10th Annual Redneck Parade
Seeking parade entries - over $600 in prizes to be awarded! The parade beings at 6pm; registration at 5pm at the corner of 5th and D. Registration is Free! The theme is "Anything Goes!" with prizes in these categories:
Parade categories:
Redneck Theme: $100  Sponsor:  1st Choice Meats, Herington
Zaney & Creative: $100  Sponsor: First National Bank of Hope
Floats & Flatbeds:  $100, $80, $50   Sponsors: Agri Producers, Hope, Tampa, and Herington
General Entries: $50, $30, $20   Sponsor: Herington Tri-County Chamber of Commerce
Vehicles: (Cars, Trucks, Tractors): $50, $30, $20 Sponsor:  Atmos Energy, Central National Bank
Teens 13-19: $30, $20, $15   Sponsor: Carlson's Grocery, Marion
Children (up to age 12): $20, $15, $10, $5   Sponsor: The Junior Hanschu Family, Ramona
Kids Tractor Pull
Registration begins at 5:30pm at the south end of main street. Racing begins after the parade. Kids 4-12 compete in 9 classes. Top 3 in every class are eligible to compete at the Kansas State Fair. Prizes for 1st, 2nd, 3rd in each class.  Sponsored by Deines Farms of Ramona; prizes by Rick & Barb Hanschu, Ramona. 
Contests and Games
Following the parade there will be contests for kids of all ages on the streets of downtown Ramona.
Music
Locker #15 from the Junction City area, plays classic rock: Hurt so Good, Takin' Care of Business Rocky Mountain Way, Black Magic Woman, Long-Haried Country Boy, Ain't No Sunshine, Come Together, Wagon Wheel, Midnite Rider, Mustang Sally, Gimme 3 Steps, Honky Tonk Woman . . . and much more. Bring your lawn chair, sit a spell and enjoy great music! Sponsored by Cow Camp Inc. of Ramona and Kenny Stroda Farms of Ramona.
Fireworks
Fireworks begin at dark (around 9:45 pm). Sponsored by DC Trucking of Ramona, Marion County Economic Development and Tampa State Bank.
Questions? Call Jessica Gilbert, event coordinator, 785-965-7110 or Mayor Byron Noeth, 785-258-4085.