click on pictures for larger images and descriptions
The Ramona area was one of the last to be settled in Marion County. The first settlers arrived in the early 1880s. If the Kansas, Nebraska, and Chicago railroad had not been routed through this part of Marion County, Ramona would never have existed. The town was founded by the speculative Golden Belt Town Company, which filed a town plat in April 1887.

Mr. John Noll, who sold the land to the Golden Belt Town Company, suggested the town be named Shields, Kansas, in honor of J.B. Shields, Ramona's first school teacher, and a man beloved by the community. However the railroad discovered that there was already another town with this name, on the Missouri Pacific railroad line, in western Kansas. So the name RAMONA was chosen instead. There are three suggestions as to where the name came from, and they may have all had an influence: Ramona was the name of a beautiful Indian maiden; Ramona was the title of a well-known novel, by Helen Hunt Jackson, describing the mistreatment of the Indians by white settlers and the U.S. Government; Ramona was the name of a popular song of the era.
The first settlers arrived in the early 1880s and had names like Ausherman, Shirk, Strickler, Buttel, Sondergard, Weber, Oyster, Fike, Brandt, Applegate, Kramer, Brunner, Brechbill, Albrecht, Helbach, Bernhardt, Deines, Schneider, Hanschu, Domann, Sader and Schubert.  Some of these families had emigrated straight from Europe, and as the names indicate, many were of German ancestry. 

The history of land ownership in Ramona dates back to when the land was owned by Spain.  On July 16, 1799, Manuel De Lisa, a New Orleans merchant, petitioned the Lt. Governor at New Orleans for two grants of land (one for himself and one for his brother).  He asked for 6,000 arpens each. (An arpen is a French term of measurement and equals about one acre.) Marion County Deed Book B shows that Manuel Lisa had 6,439.32 acres in Marion County, and the Ramona area was part of this acreage.
When Manuel De Lisa died in 1820, he willed half of his land to his nephew and the other half to his wife, Mary.  After Mary died, her executor sold the land to A.W. Allen of Kansas City for $4,804.58 in 1870.  The land that was to become Ramona was sold several times before the town was platted in 1887.
Ramona has always been a small community, however, in order to incorporate in 1909, there had to be at least 250 citizens to qualify as a third class city. It petitioned for incorporation December 14, 1909 and the Board of County Commissioners gave its approval January 3, 1910.
Ramona flourished with a population between 250 and 300, until the 1930s, and then people began moving out. Today the population hovers around 125.  There are currently 46 households in Ramona. Only a handful of families who live in city limits have ancestral roots in Ramona; many  have chosen Ramona because they prefer the small-town atmosphere, and the cost of living is more affordable than in larger towns.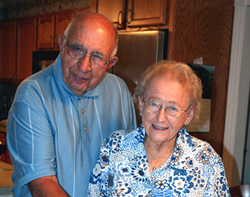 Alfred Sondergard, is the only Ramona resident (within city limits) who can claim that he's lived his entire life in Ramona.  He was born in 1922,  and got married in 1942 to Darlene Helbach. "Al and I have lived our entire married life together here in Ramona," said Mrs. Sondergard, "except when we were first married and Al was in the Navy and oversees."  As of 2012, they have lived all their 69 years together, in a lovely little white house with black shutters, on E Street.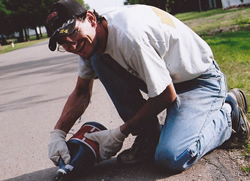 Jayme Brunner was also born in Ramona, in 1972, and has lived his whole life here.  His children—Kaitlin and Solomon—are fifth generation Ramona-ites.  They are descendants of G.H. & Eva Brunner.  Jayme's father, Jim Brunner,  was another life-long resident.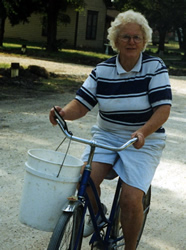 Betty Ohm is another long-time resident who began her life in Ramona when she married Harold Ohm in 1952.  For 48 years the Ohm family lived on Ramona's main street, living in the back of the restaurant that they bought shortly before they married.  They sold the building when they retired in September, 2000. Harold and Betty continued to live in Ramona on B Street; Harold passed away in 2010, but Betty can still be seen taking her daily walks around town.
Henry Schubert was born on a farm west of Ramona in 1914, and moved into town later in life, after he married a Ramona school teacher, Gertrude Hicks, in 1945. Together, Hank and Gertie became the unofficial town historians, by virtue of the fact that they had lived here most of their adult lives. When the Ramona Centennial arrived in 1987, they were very involved in the celebration--Hank as President of the committee, and Gertie collecting the historical pictures and artifacts for the informal museum that was housed in one of the downtown buildings.
Years later, in 2000, when the Schubert's nieces, Pat Wick and Jessica Gilbert, moved to Ramona from California, Gertie shared the pictures and documents that she'd collected over the years, so her nieces could create the Dirt Gambler's Museum in Ramona.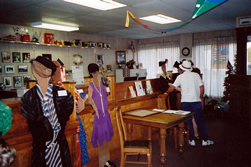 Gertie had a life-long dream to have a museum because she was passionate about history, and she was thrilled to finally see all the historical pictures on display.  When Hank and Gertie moved to Colorado in 2004 to be near their sons, Gertie left her entire historical collection with Pat and Jess. Because of her generosity, and her love of a place that she she called her own (even though she was not born here), this section of the website is rich with pictures, giving a glimpse of life in Ramona, from over 100 years ago.


Many stories about Ramona families were featured in The Ramona News, a quarterly publication that was produced by Pat Wick & Jessica Gilbert, from 2001-2008.  Pat, a prolific writer and photographer, has been recording the stories of the families who have resided in this area for several generations. Her photographs of the Ramona area span more than 30 years. The majority of color photographs on this website came from her collection.
Everyone with a Ramona address—whether in the country or in town— has an impact on this quaint prairie community.  Whether the family names are rooted in generations of history—like Fike, Brunner, Deines, and Hanschu—or planted here in recent decades—like Smith, Bailey, Svoboda, and Stroda—they all leave their imprint. Even residents who may arrive like the leaves in the hopeful Spring, and move on in some distant Fall, they, too, leave some part of themselves, to be forever imbedded in Ramona's constantly-unfolding history.
Without a sense of caring, there can be no sense of community.
- Anthony D'Angelo