click on pictures for larger images and descriptions
Ramona Hotel
In the early days, commerce thrived in Ramona. With the arrival of the railroad, one of the first buildings on main street was a boarding house, operated by the Ausherman family. The Aushermans came to Kansas from Pennsylvania in the early 1880s, and settled north of Ramona where the Rosebank church is now located (200th Street). They farmed and operated a postal station on the route from Abilene to Marion, and when Ramona came onto the rural landscape, they built a two-story hotel on the west side of main street.
The hotel offered accommodations for railroad workers who were building the railroad lines through Kansas. While the Missouri Pacific railroad went through Hope and Herington, the Rock Island headed south to Lost Springs and Lincolnville. In 1887, the railroad line reached Ramona; Tampa and Durham followed.
The hotel also offered lodging to traveling salesmen, called "Drummers," who traveled by train with their trunks of merchandise samples, calling on Ramona merchants to take orders. The hotel also served meals for the traveling public, and the local business people, as well. It was a valuable asset to the community at that time. Eventually, the hotel was torn down by Henry Beltz, and the lumber was used to build a farm house northeast of town.
For nearly 100 years, Ramona had no hotel or boarding house, until 2000, when the California Sisters—Pat Wick & Jessica Gilbert—moved from California to Ramona, and turned the old Lutheran church parsonage, at 4th and D, into a bed and breakfast, called Cousins' Corner. They opened their doors for business in 2001. Once more, the railroad—this time the Union Pacific—brought steady business.
A railroad crew came to the area to fix ties and repair crossings, and the crew supervisor heard we had a bed and breakfast. We were living in the house, doing remodeling, but when they asked to stay at the house, we had it ready for them within 12 hours, and my sister was ready to serve them bacon and eggs for breakfast.
Pat Wick
The sisters have operated their guesthouses for over a decade; their customers include railroad crews, itinerate constructions workers, folks who have roots in Ramona, and return for reunions and funerals, and city folks, who have no ties whatsoever to Ramona, but want to experience a slice of rural America.
Barbershop
The barbershop building has been the site of several businesses through the years. The little building still stands on the west side of main street. In 1887, Reinhart Fiel built the structure for his harness and shoe repair shop. He was a master of his trade and served Ramona until his death in the 1920s.

The building was then remodeled for a barbershop, operated by Carl Kramer, who came to Ramona in 1906, from the Junction City area, and conducted his barbering business in several different buildings, until settling in the small building, which today is located at 207 D Street. In 1929 Carl sold his business to his son, Raymond.


I grew up south of Ramona. One day I came into town with my grandpa (I was just a little girl at the time), and while my grandpa conducted his business in town, I headed straight for the barbershop, all by myself. 'I want a windblown haircut,' I announced to the barber, Carl Kramer. I climbed into the barber's chair and he began to cut. By the time he was done, I looked like I'd been stripped of hair. When Mr. Kramer said 'That'll be 25 cents,' I realized I didn't have any money, so I told him that I'd pay him the next time I was in town. When I got home, my mother saw the new haircut, and exclaimed, 'What on earth have you done!' and when I told the story (including the part about not having 25 cents to pay the barber) my mom wasn't amused. She gave me a good spanking!
> Rachel (Koch) Epp - from an interview in the Ramona News, 2003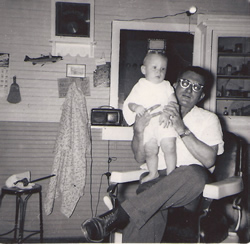 Other barbers, who snipped their way into Ramona history, were Victor Bernhardt, David Spellman, and Glen "Curly" Bernhardt, the last barber in town. Curly cut his last head of hair in 1966.
Through the years the little barbershop building has had several owners—Clinton Hanschu, Reign Anduss and most recently Pat Wick, who turned it into a gallery and gift shop from 2005-2007. In honor of the many barbers that cut hair in the building, Pat called her shop "The Barbershop Gallery."
The building no longer holds a business, but you can still see the barber, giving a little boy a haircut, if you look in the window—they're "scarecrow figures," but they're reminders of the good 'ole days when Ramona had a barbershop, and you could get a haircut for "two bits."
Some of the first buildings on main street in the 1890s were ones that housed the various incarnations of S. C. Eskeldson's businesses. Unfortunately, none of them remain.


My dad came to Ramona in 1890, when he was just 16 years old, from Denmark. Dad had to learn to read and write English upon his arrival in the United States. He did have family already living in Ramona—his sister, Kristina, was married to N.P.J "Pete" Sondergard—and so he had a place to stay. Eventually my dad and Pete became business partners. I was the last of the 'tribe' of seven kids, so by the time I was an adult, Dad didn't have much to say, and so I don't have many details about my father's business life. But I do remember one thing he said, often: 'You really don't know people til you deal money with them.'
Steve Eskeldson (son of S.C. Eskeldson) - From a 2012 conversation with Jessica Gilbert; Eskeldson still lives on the family farm, northeast of Ramona.
Eskeldson and Sondergard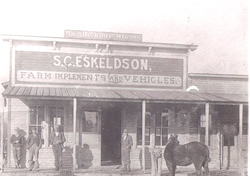 Both S.C. Eskeldson and Pete Sondergard came from Denmark, and were brother-in-laws for a time. Sondergard was employed as a blacksmith for the railroad (in Herington) when he first came to this area, and decided to start his own business in Ramona. He asked Eskeldson—a wheelwright—to join him. Eskeldon's skill was a very valuable one at the time—since replacement parts of farm machinery and wagons were not available, so one had to turn to a "smithy" to forge needed parts.
Soon Eskeldson and Sondergard added a dealership for McCormick-Deering Farm implements, which was very successful, because the population was increasing and the demands for implements was rising right along with it.
Eventually, Mr. Eskeldson built a hardware and implement building, where he continued his business. In 1915 he sold the business to Roy Bird, who later sold it to the Woodrow Wilson family, and finally John Biehler. Around 1922 Clarence Neis operated a restaurant on the first floor of the building, and there was a theater on the second floor. One year it was even used as the gymnasium for the Ramona High School basketball team.
When Pete Sondergard, Eskeldon's business partner, retired in 1907 from the "smithy" business, he leased his blacksmith shop, and moved to Lost Springs to open a flourmill. Eventually, Otto Kuether purchased Sondergard's blacksmith shop. The last "smithy" in Ramona was William Weber, who operated his shop from 1937 until his retirement in the 1960s.
Being progressive in his business ventures, S.C. Eskeldson decided to open a Ford dealership in Ramona, and call it the Ramona Garage. This time he partnered with Niels Sondergard—Pete Sondergard's nephew—who was the mechanic for the garage.
This was a very prosperous business during the hey-day of the motel-T Ford. Many of us can recall when Fords were shipped in by railroad, four to a boxcar. They came unassembled. The chassis were stacked at one end of the railroad car, and the bodies at the other. The fenders and wheels were piled in the middle, at the doorway. Workers removed the fenders and wheels first, then the chassis and then a body, with the fenders piled onto the body. It was then pushed down the ramp and steered down the street to the garage, to be fully assembled and prepared for sale. My dad would buy a car and then sell it to one of the farmers, after teaching him to drive. No driver's license was needed—just $300-$400 to buy the car.
Dale Sondergard (Pete Sondergard's son) - Excerpt from A Century of Memories, written by Dale Sondergard for Ramona's Centennial celebration in 1987
Competition from the new Model-A Fords and the 1928-29 Chevrolets impacted the Ramona Garage business, so S.C. Eskeldson sold his interest in the business to his partner, Sondergard, who took on new partners—John Dorsch and Jake Schnell.


In 1945 Oren and Lauren "Babe" Daetwiler bought the garage, and ran the business until 1955, when Alfred "Kink" Sondergard (son of Niels Sondergard) took over and operated the garage until 1987. The last owner of the building was Maurice Stroda. By this time, the garage was primarily a gas station and Maurice also operated a repair business. In 2001 a heavy snowstorm caused the roof of the grand old building to collapse, leaving only the back part of the garage, which can still be seen on the east, when you drive down main street.
There were other garages and tractor dealerships through the years. In 1916, J.H. Brubaker built a large red brick building, on the east side of main street, to house a dealership for farm implements, automobiles and Avery tractors. Harvey "Barney" Kleopfer leased part of the building for an automotive repair business—Kleopfer's Garage and Machine Shop—who was the first professionally-trained mechanic in the area.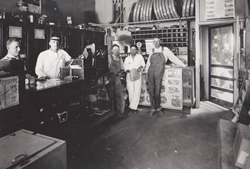 In 1927, the Tatge brothers—Harlan and Edwin—purchased the Brubaker building and established a dealership for John Deere farm implements and Chevrolet automobiles. Farm implement demonstration days were an annual event in Ramona. These occasions drew crowds from far and near.
I remember as a kid, what excitement there was in town, when the latest implements were showcased by the Tatge brothers. It was like a carnival was in town—there were hot dogs and other foods served, and the streets were filled with curious farmers.
Laurel Ehrhardt (From a conversation with his daughter, Pat Wick, 2006)
The Tatge brothers were very astute businessmen, providing employment for many in the community. They were an asset to Ramona for over 20 years.
New farm implements were difficult to obtain during and after WWII, so the Tatges searched several states for used machines, and hauled them to Ramona. They used the good parts from several machines to make one really good one. They deserve a lot of credit for such foresight and initiative.
Dale Sondergard - (Excerpt from A Century of Memories)
Ed Tatge eventually sold his interest in the implement company, and became an extensive wheat and livestock farmer in Colorado and Kansas. His brother, Harlan, moved the implement business to Herington and sold it, becoming associated with the Welsh Manufacturing Company at Herington. Prior to 1987, they purchased the old Ramona high school building and established a small manufacturing company called Tox-O-Wik Cattle Insecticide Applicator. This business continues to this day in Ramona, and is owned by Warren Gfellar, a businessman from Kansas City.

(picture coming)The last owner of the red brick building, called the Tatge building, was Norma Weber and her son, Jim Weber. The building was a Ramona landmark until 1995, when it was torn down because the structure became unsafe.
Just south of the Tatge building is a small building that, in Ramona's early days, served as the post office in Ramona. When the post office relocated to a building on the west side of the street, Jess Oyster converted the building into a restaurant.

Restaurants
The Albrights had been operating the restaurant in the late 1940s and had closed the business, so the owner of the building was looking for a buyer. Harold and Betty Ohm purchased the property on March 21, 1952, just days before they got married on April 3. Betty opened the restaurant/bar herself when she arrived in Ramona—she was barely 19.
The Ohms turned this structure into their home, eventually raising their three daughters there—and turned their front room into what became affectionately know as "Ramona's living room." The cafe was the social hub of Ramona.

In 1952 there were 14 businesses in town, besides our cafe: Strickler's Mercantile, Curly's Barbershop, Lizzie Mohn's cream station, Oscar Applegate's real estate office, Grover Anderson's grocery store, Jack Anderson's post office/hardware store (in the same building). There was the bank, the central telephone office, a gas station owned by Henry Albright, Marie Hicks's liquor store, Alvin Sader's television repair shop, the Sader Café, the elevator, and the train depot.
Betty Ohm: (From an interview in the Ramona News, 2006)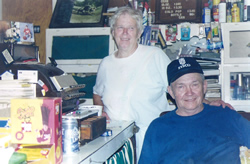 Betty and Harold retired from the restaurant business in 2000. They stayed in Ramona, moving to a house on Second Street. The restaurant was sold at auction to Jeannie Weber Goza, who operated her own restaurant, Cheers II, for several years. This little historical building still stands on the east side of main street; it's used as a residence.

Ramona has been blessed with many restaurant owners through the years: Clarence Neis, Ira Miller, Ezra Riffel, Shorty Mortimer, Wilbur Liddell, Ray Kramer, Dale Sondergard, Harry & Georgia Berger, Pete & Hannah Sader, Greg & Lori Stenzel, Harold & Betty Ohm, Jeannie Goza, Reign and Marlene Anduss.
Badger Lumber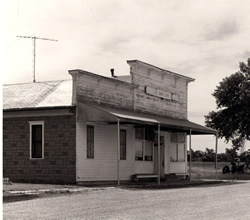 One of the oldest structures in Ramona is the former Badger Lumber Company, located on the east side of main street, at the south entrance to town. (The Badger Lumber Company also had lumberyards in Herington, Marion, Elmo, Hope, Abilene, Tampa, and Durham.) Mr. Al Peterson was the first manager at the Ramona store, followed by Robert Telfer, who managed the operation until the Depression, when the store temporarily closed. It re-opened under the management of Les Hungerford, and operated for another ten years.

When the enterprise closed, the lumber shed was removed. The store building was sold to Harry and Georgia Berger, who used the building for a restaurant, as did Pete and Hannah Sader, and Greg and Lori Stenzel. Don and Norma Bird bought the building in 1988, and Norma operated an antique business there until 2007.
Daniel Merilatt, a farmer who lived east of Ramona, established the first general store in Ramona in 1887. He built a two-room building, located on the west side of main street, a short distance north of the first intersection in town (where the Ramona Senior Center is now located). Later the building would be used as the first bank, and later as a restaurant.
I remember 'Butter and Egg Night' in Ramona, when everyone came to town on Saturday nights to trade goods, enjoy fellowship with neighbors, or dine in one of the cafes. You could hardly find a place to park. We girls would go over to Lizzie Mohn's Creamery, where she would weigh us. Or we'd go over to Billy Oyster's Café to purchase a Mr. Goodbar for five cents.
Anna Mae (Sader) Stika - (From an interview in the Ramona News, 2002)
Strickler & Company
Strickler & Co., founded by the J.S. Strickler family, became Ramona's most prominent general store. Joseph Strickler came to Marion County from Virginia, with his family of 11 children. He had successfully operated a grain elevator in Virginia for 15 years, so when he moved to Ramona, he built an elevator on the railroad property. Later he became a partner with J.B. Shirk in operating a general store, while continuing the elevator business.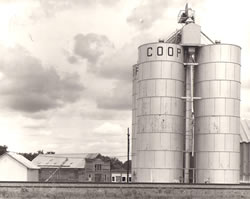 As the mercantile prospered, Strickler built a large store, on the west side of main street, at the south entrance into town. When Shirk retired, Strickler was sole owner of this prosperous business. His five sons, helped run the mercantile, as well as the elevator. The store served the community for over 70 years until an unfortunate fire, in February 1955, destroyed the building.
The elevator, still a prominent landmark in Ramona, later became a farmers' cooperative. It dominants the Ramona skyline to this day, and is owned and operated by Agri-Producers of Tampa, Kansas. These days, there's little activity at the elevator, until summer harvest rolls around.
The building that has housed many grocery stores in Ramona, still stands on the west side of main street.  Robert Greer, who used it as a combination cream station and grocery store, constructed the building.  This small grocerty continued in business, throughout the next 100 years and these families were some of the owners:  Robert Greer, Jim Nelson, Grover and Eva Anderson, Jake & Bertha Schneider, Salu and Hannah Brunner, and Clinton and Frances Hanschu, who retired in 2000.
When I was in my youth, I worked for a short time at the grocery store when it was owned by Saul & Hannah Brunner.  I remember Hannah coming around from the back of the meat counter and saying, 'Sell the Hamburger for three pounds for a dollar today!' Imagine that!
Anna Mae (Sader) Stika - from an interview in the Ramona News, 2002
When the Hanschu Market closed in 2000, Reign and Marlene Anduss from Peabody bought the building, and opened a restaurant in 2001. Marlene's homemade pies were reason alone to drive to Ramona, and Reign's fried chicken buffets had folks waiting in line on Sundays. The Andusses eventually moved to Ramona, and operated the café until December, 2006.

A.G. "Archie" Greer and his sister, Marie, built a store on the northwest corner of what is now Third and D Streets in Ramona.  The year was 1901. The Greers came from Ireland in 1890 and spent a decade working in New York City, before coming to Ramona. Archie was employed by a large mercantile firm in New York, and Marie was employed by several wealthy New York families—including the Vanderbilts who lived on the Hudson River.


Routinely, throughout the years, the old bank building needed to either have the floors leveled and jacked up, or the roof tarred to keep it from leaking. In 2009, when Tim unexpectedly died of a brain tumor at the age of 48, the sisters could no longer maintain the building. Many of the historic pictures were moved to other buildings for safekeeping. The museum closed in 2009,and until the day the building is torn down, the sisters will keep displays in the windows to add life to main street Ramona.
Gas Stations
The Ramona Oil Company was started because automobiles were becoming more prominent. Howard Button built a bulk gas station, on the triangle of land just north of the railroad tracks (the intersection of 3rd and F, today). Two large storage tanks, and pumps, were on this land, with a pipeline running to the railroad siding, since gasoline was shipped in by tank car. Mr. Button was a farmer when he began this company, but as business flourished, he eventually gave up farming. The Durham Oil Company bought the business in 1929, followed by Newt Kleopfer, and finally, Ben Brunner.
Other Businesses
Besides gas stations, Ramona had a wide variety of other businesses through the years: shoe and harness shop run by Fiel and Lemley, cream stations owned by Lena Hackler and Lizzie Mohn, and another by James Nelson. a jewelry and watch repair shop by George Klover, and a drug store operated by the resident doctor, Doc Saylor.
Dr. John Harvery Saylor completed his medical training at Kansas University in 1904, and promptly came to Ramona to practice. He began his practice in the days of horse and buggy, and almost lost his life on one occasion, while trying to reach a patient during a snowstorm—his rig was struck by an oncoming train at the crossing east of Ramona, near the St. Paul's Lutheran Church. The horse was killed, and the buggy demolished. With a broken leg, Doc Saylor crawled to the church parsonage for help. Dr. Saylor served the Ramona community until 1925, when he left to serve as Marion County's first Health Officer. As for other medical services in Ramona, they were sparse, except for a traveling dentist—Dr. C.J. Hood—who periodically brought his chair and equipment to town.