click on pictures for larger images and descriptions
The United States Post Office was established in Ramona on August 9, 1887,  by the Ausherman family, and was located in their hotel. Mr. Tom Urie—one of the early telegraph operators for the railroad—lived at the hotel, and also assisted with the postal work. He married the Ausherman's daughter, Metta, who was the first United States postmaster. The post office remained in the hotel for over 20 years.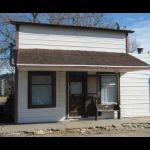 A more permanent location, built especially for the post office, was constructed around 1910, and Mr. John Weiss was the postmaster. The post office operated here until 1935-1936, when it moved to the west side of the street, into a leased space on the southwest corner of the intersection. The post office is still located here in 2012.
It was a wonderful, heart-warming experience being Ramona postmaster. I felt like the bartender at Cheers (the television show), because the community people came in, and we visited and shared stories. I remember one time when a customer played a trick on me—Collin Bailey put a black plastic rat in his postal box, and then waited in the lobby until I discovered it. I think he delighted in hearing me scream.
 Marlyn Diepenbrock, 1998 - 2000
I form a bond with all my customers—I know their families, I see them every day, I know what's happening in their lives, and I feel connected to them. And then I become protective of them—especially the older citizens in town—I become like extended family. If someone doesn't come in for a couple of days to get their mail, I call them. If I don't hear from them, I check with relatives. This happened a few years ago when one of our older residents, Neal Elgin, didn't come get his mail. I called his relatives in Texas and Missouri and they asked me to go in the house and check on him. My husband and I found Neal; he had died of a heart attack.
 Kathy Matkins: Postmaster 2000 - 2015
The rural carrier is a vital part of the postal system in Ramona. Daniel Merilatt was the first rural carrier; he served for only one year. In 1888, he was followed by Frank Liddel, who continued until his death in 1929. Mail delivery was accomplished primarily with horse and buggy in this era. Even after Liddel bought a reliable Model-T Ford, he still used his team of horses when bad weather made the muddy roads impossible to travel.
Eventually, it was bad weather that caused Mr. Liddel's demise; his car got stuck in a snow bank and he was so determined to deliver the mail that he walked the rest of his route.  Exhausted, he arrived at the post office in Ramona, walked in the door, collapsed, and died.
Mr. Liddel's dedication brings new meaning to the code of the U.S. Postal Service: "Come rain, sleet or snow, the postal service will deliver."
Steve Jirak has been the rural carrier for 29 years (as of 2012), and still delivers the mail to the rural Ramona-Tampa area. He began his career in 1983.  
 My worst day in 29 years of delivering mail was my first day. The high that day was 7° below zero—the worst blizzard I'd ever experienced. I couldn't see where I was going, because it was so cold that the defroster couldn't keep the windshield clear. I was driving my brother's 4-wheel pick-up,  and ended up hitting a 10' snowdrift at 30 MPH. The impact was so great that the radiator was pushed into the fan blade. It took me 2 hours to dig myself out. (In those days we had no cell phones to call for help.) The truck got me home, but I couldn't finish my route. In 29 years—and 11 cars—it's all been easier than my first day. I figure if I can survive that, I can handle anything!
Steve Jirak, Ramona Rural Carrier
In 2011 the United States Postal Service announced massive closures of post offices, citing losses in revenue in the last decade, as electronic technology becomes the favored method of sending information. The rural post offices were the first on the closure list because populations in small towns are dwindling. Ramona was proposed for closure as early as January 2012.
A "Save the Post Office" campaign was launched by concerned citizens, with Jessica Gilbert as chairperson. She wrote letters to everyone from Postmaster General Donahoe to the President Obama. Concerned citizens attended an area meeting in October, where postal officials came to hear citizen's concerns, and people barraged their senators and congressmen with letters, asking them to protect the postal service, which is so vital to Ramona.
Ramona got a momentary reprieve when Kansas Senator Jerry Moran, introduced an amendment to the 21st Century Postal Service Act, which "would prevent the Postal Service from closing any post office until new service standards are in place." These standards would address demographics—such as population and age—in addition to revenue production. In December 2011 the community received word that the predicted post office closure was put on hold until May 2012.
Then in May, word came that the post office would remain open until 2014.  However, small post offices can expect reduction in business hours, and other changes that reduce the U.S.P.S. expenses, yet keep service in small towns.
For many in the community, the closure of the post office would move Ramona one step closer to becoming a ghost town, since the post office is the last full-time business on main street.
If you want to help save the post office, buy your stamps from Ramona. Revenue helps determine what offices get closed. Call Kathy Matkins 785-965-7171 (open 8am-4pm); she knows the true meaning of "customer service." She has "stamps-by-mail" customers from coast to coast. Every sale helps keep Ramona on the map.