click on pictures for larger images and descriptions
In 1901 the Mutual Telephone Company was organized in Ramona, and a president and secretary-treasurer appointed to serve as corporate officers.  As to the location of this first Central Office, the stories suggest it was in the home of N.P.J. "Pete" Sondergard, who built an addition to his home for this very purpose. The first telephone operator in Ramona was most likely Pete's sister-in-law, Miss Ida Andersen.
Pete's nephew, Niels, bought the house after his marriage in 1910, and he and his wife, Lena, became the telephone managers for the next 15 years. In 1924, Wilford and Marie Hicks bought the Sondergard home, and became the next Central Office managers. Marie continued in this role until 1949.
There were four divisions for rural telephone service; each rural line was responsible for maintenance of their lines and the collection of the monthly service fees paid to the company.  Telephone lines connected each residence that wanted service and several homes were connected to the same line; they were called "party lines," and although each household had an assigned ring—one long and a short, or two longs, etc—everyone could pick up the phone and be on the line at the same time. This feature came in handy when there were emergencies and news needed to reach everyone as quickly as possible.
The switchboard and crank telephones were still being used when I was 10 or 11 years old. I remember that our number was two longs and a short.
Gary Fike
All the rural lines were connected to the Central Office, and the operator had to connect people up so they could talk to each other. A trunk line was built to connect Ramona with neighboring towns, and also to Marion so long distance service could be secured through the Bell Telephone system.
Long before there were televisions, with soap operas and reality shows, there were party lines. My aunt Verna (Ehrhardt-Pritz) was notorious for picking up the phone, even though she knew the ring was not for the Ehrhardt house. Verna's sister, Naomi (Fike) said that Verna literally wore the carpet bare in front of the telephone because she stood there listening so much!
Jessica Gilbert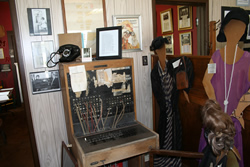 Ramona had free service to Herington, Hope, Lost Springs, Tampa and Pilsen, but one could connect to other Telephone Exchanges beyond this area. For example, to connect with your cousin in White City you'd be connected like this: Ramona to Hope, Hope to Navarre, Navarre to Woodbine, Woodbin to Latimer, Latimer to White City. Quite often the reception would be very poor, after going through so many switchboards.
I worked the switchboard and helped my mother, Marie, from the age of 12 until I was 18, and went away to college. I also worked as lineman when my uncle, Sam, went into the army in 1942. If someone wanted a telephone it was my job to string up a line to the house and install the phone. During ice storms lines were always breaking down, and it was my job to go out and splice the line and put it back up on the pole. (I had to use a ladder to do this, because I never learned how to use those spurs to climb the pole. But my dad had a pair in the garage that he used.)


Rev. Eugene Hicks (Excerpts from "Two Longs and a Short," by Rev. Hicks, the Ramona News, 2002.)
The switchboard was the nerve center of every small town—fires, emergencies, and family problems were all handled by the local operator. For example, if a call came in about a fire, the operator would alert all the neighbors, and everyone in the area went to help—there was no fire department in those days.
When my mother had a heart attack, the operator called me at work in Herington and said, 'Henry, I heard your dad calling the doctor, and I think you'd better get home quickly.' That's how Ramona was in the early days—before we had 911, we had each other.
Henry "Hank" Schubert
Working the switchboard was fun, and I got to know everybody. I remember one time someone called from Lincolnville for Mr. Bernhardt, and my mother said, 'Which one? There are a lot of Bernhardts in Ramona.' The man replied, 'I want nine-finger Bernhardt.' My mom knew instantly who this was and got them connected on the phone. We all knew Mr. Bernhardt, the custom corn sheller, who'd lost a finger in the business.
Rev. Hicks
I was one of those high school gals who worked on the switchboard in 1937-38. There was a little closet-like phone booth that was attached to the switchboard, where someone could have a little privacy when they made their calls. Most of the young men in town would come to the switchboard office to make their dates with their girlfriends, since they didn't want everyone listening on the party line when they made calls from home. I heard a lot of great conversations through the thin wall of that phone booth.
Virginia (Brunner) Shields (From Ramona News, 2002)
The building that housed the first Central Office is still standing today—on the southeast corner of Third and D Streets in Ramona. The telephone operation moved from this house, in 1949, to a building on the west side of the street, just north of the bank building. The only remnant of this location is the water pump, painted red.
With the new building, came new operators—Louise (Schubert) Poppe, and her father, Emil Schubert. Other operators were: Josephine Liddell, Mildred Sader, Helen McRae, Eula Beltz, Godfrey and Olga Schneider.
In 1969, the telephone service was sold to Tri-County Telephone Association, which began operating a dial service in October of that year.