Ramona in 1987 was quiet and tranquil; notice the gravel roads. That's Jake Brunner driving north on main street in his Chevrolet "fishin' car."
CENTENNIAL COMMITTEE MEMBERS
After 25 years, the records of who served on the committee are sometimes "sketchy." So if you're reading this and were a committee member, but don't see your name listed below, please let us know.


President: Henry "Hank" Schubert
Treasurer: Greg Stenzel
Secretary: Darlene Sondergard
Members: Paula Fike, Warren Fike, Irene Klover, Donita Ryff, Betty Ohm, Dick Bowman, Barb Hanschu
CENTENNIAL HIGHLIGHTS
Rev. Edgar Danistchek of Omaha, NE, spoke at the Memorial Day Service
The BBQ dinner was at 11am costing $3 per person
Alexander "Alex" Brunner (91) and Rose Bura (87) were the parade king and queen
A "Centennial Station" postal stamp
A quilt drawing was held; the quilt was made by the Ramona Senior Citizens group
Air Force "fly over"
The Centennial parade, with a dance later in the evening
Volleyball tournament in the park
Historical artifacts and pictures in the building where Strickler's store once stood
THE CENTENNIAL COMMITTEE MEMORIAL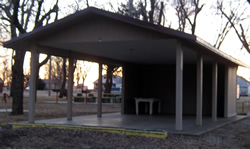 Proceeds from centennial souvenirs left a legacy that is still being enjoyed by the community:
Built the Park Shelter House in 1988
Purchased "Welcome to Ramona" signs
Created the annual tradition of the Memorial Day picnic in the park

CENTENNIAL PHOTO GALLERY
Centennial pictures provided by Keith Schubert, son of Henry and Gertie Schubert.  Click a picture to see a larger image and slide show.
Centennial Gallery
AFTER THE CENTENNIAL
The centennial committee renamed themselves The Ramona Improvement Committee, and continue to contribute to the community by funding and organizing the annual Memorial Day picnic in the park.