My earliest recollection of Ramona is connected to cookies—chocolate chip cookies—because that's what Grandma Schubert had waiting for me when I came to visit.  She kept them in an old tin lard bucket—the first thing I saw when I came onto the back porch of their little house on west 4th street in Ramona.

Coming to Ramona meant freedom! I could run all over town with my cousins and feel safe. I could be wildly loud—something that didn't happen as a preacher's daughter, under the scrutiny of a congregation. And I could eat all the cookies I wanted—even though my mother admonished, "Only one!"—because Grandpa said I could!  What sweet ties that bind.

As a child, I returned to Ramona mostly for funerals, or when harvest rolled around, and my dad wanted to get a feel for the country again. Dad was born and raised on the Ehrhardt place just south of town; Mom was born at the Schubert farm, just west.  They went to high school here and fell in love in orchestra class. There are so many ties that bind.
As a young adult, I didn't return much to Ramona.  I was in my 30s when I came back for a reunion—a ritual my aunts and uncles faithfully continued, year after year.  My uncle Clarence Struebing showed his jubilation at having someone from the younger generation show up, by saying, "I'll pay for your meal!" The catered meal only cost $5 a person, but his generosity was such a lovely gesture; just another tie that connected my heart to his.

In 1986, we returned to Ramona once more—this time, to celebrate our parents' 50th wedding anniversary with the extended family. One morning after breakfast, My sister, Pat, went strolling around town and found a little house—not lived in—that "called to her."

Older by 12 years, Pat had a very strong connection to Ramona--she lived the first four years of her life on a Scully southwest of town.  She longed for a little house here, so her children could experience the magic of rural life. She coaxed me, and cousin Gary, to the little house on main street.

"It's in pretty good shape," she said convincingly, as we peered in the windows, "all it needs is a new roof, new foundation, plumbing and electrical."

"Don't you go do something crazy and buy real estate in Ramona," warned our dad, who was very astute in business. "You can't afford to fix this up."

We couldn't argue with Dad's reasoning—it's just that the tug of the heart won out. Pat eventually bought that little house, and a surprise legacy from an aunt and uncle helped us restore it. For a decade—from 1990 to 2000—we spent every summer vacation (and "maxed out" our credit cards) on fixing up that little house.  We now had another tie—a 900-square-foot-tie—to Ramona.
The first Schubert reunion held at the Ramona House. 1992.
We painted and repaired from dawn to dark, laughed when Jakie Brunner brought us Pepsis, savored Aunt Naomi's fried chicken and cherry pie, relished Uncle Hank's stories, and cherished Aunt Gertie's encouraging words, as she watched us work from under a shade tree.  We were delighted when folks from town stopped by and inquired about progress—we were part of a community!

"What makes you spend your frequent flyer miles returning to a little town in Kansas," the United Airlines agent asked, perplexed.  "Girl, you could be sitting on a beach in Tahiti with these miles!"

My answer was simple: "It's an affair of the heart."  

The Bible says, "Where your treasure is, there will your heart be also."  I had invested my "treasure"—my passion, my dreams, and my resources—into a little plot of ground on main street, Ramona. And my heart was tied to this place.

My sister and I decided to move to Ramona in the year 2000; we called it our "Millennium Jubilee." When folks asked me why I would leave California, I could only say, "It's like the swallows returning to Capistrano; I am compelled."  

My sister thought we'd be here for perhaps a year or two—her daughter in California, certainly hoped that was the case. But in my heart I knew our stay in Ramona would be much longer.

What keeps me here—in good times and bad—is still my family, although they are long gone.  Wherever I turn I see their faces in what they left here, I hear their voices in the wind, and I feel their presence on the very streets I walk. 
My ancestors lived off the land—they were dirt gamblers—who invested everything in this place, just as I have.  My grandpa Schubert proudly stands in this picture, with other stalwarts of the community—like Schnell, Weber and Eskeldson—in front of Ramona's first combine in 1927. My grandpa is the jaunty "dude" in the black Stetson, leaning against the tractor.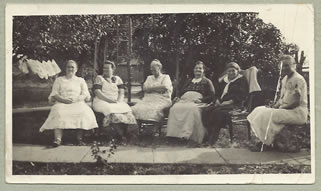 Grandma Schubert was one of the hard-working women of Ramona who were "love made manifest." They spent their days creating a home, cooking meals for harvesting crews, sewing clothes for their children, tending the garden, caring for relatives who lost a spouse, taking meals to sick neighbors, and still had time to quilt and appliqué.  

When ancestors departed, they left their legacy of pictures and stories.  Through the years these were handed down from one generation to the next. The bulk of the historical pictures in this website came through our aunt Gertie—a teacher and historian-at-heart. Most of the color pictures were taken by my sister, Pat, who has been chronically Ramona for over 30 years.

If Ramona was once your home, I hope you will be delighted in seeing your past reflected in this website. And I dream that those who inhabit Ramona now, will know that they, too, are making history in this place.

What makes anything worthwhile happen?  I believe it's love—love of something, someone, some place.


The writing and creation of this website is my labor of love for Ramona. As I researched, wrote stories, and scanned pictures, my heart smiled once more, and I remembered why I came here.

Blessed be the ties that bind.
A note of Thanks:
My thanks to Theresa Huffman, Director of Marion County Economic Development, who encouraged and helped fund this website. My appreciation to Tri-County Telephone for the grant that funded the historical section. And finally, my gratitude to Kevin Ireland, who worked long hours (more than could ever be compensated) in designing and creating this beautiful "vessel" that holds Ramona in "virtual reality."
Jessica Gilbert - website "wordsmith" & Ramona City Clerk